Focused & Value-Driven Culture
Our workplace is characterized by innovation and uniqueness, which is derived from the culture we uphold. Our culture is based on the 4C's: Colleague, Company, Client, and Community, and serves as the cornerstone to help us achieve our objectives. However, it is ultimately our people who nurture and maintain this cohesive culture
At Kaizen Plus, we firmly believe that having professionals from diverse backgrounds and experiences can enhance the quality of our product and service offerings to customers, as well as benefit our company as a whole. By bringing together a diverse group of talented individuals, we form productive teams that can help clients achieve incremental changes and create value for communities.
Continuous Learning: In an ever-evolving world of technology, continuous learning helps us stay on edge.
Transparency: Client-provider relationships that are built around transparency always yield the best results.
Teamwork: Exemplary teamwork sits at the center of our endeavors. Every new undertaking renews our vows as a team of innovators.
Accountability: It takes unfailing accountability to stay at the top of this ruthlessly competitive tech solutions market.
Excellence: Innovation and excellence often go hand in hand. And we never shy away from going the extra mile to ensure exceptional service quality.
---
Plan-Act-Gain
Kaizen Plus Culture is performance driven culture that motivates, empowers, and engages every member of the team to get high quality output , and for creating an appropriate and healthy work environment. where talents are recognized and rewarded!
Kaizen Plus's main performance goal is to have proactive, achieving employees, that their main objective is accomplishment and high performance.
OUR DEPARTMENTS
1. Sales & Marketing
At DevTechnosys we have efficient project managers to ensure your enterprise growth. Our project managers help you in maximizing business value and returns on investment. Kaizen Plus project managers open up advanced methods and services to your enterprise for a seamless day-to-day workflow. They enable your enterprise with various tools and work essentialities that turn ideas into a full-fledged enterprise.
2. Operations & Development
The Epicentre is where great ideas are manufactured into life. Our team of experts is known for quick fixes and add-ons of exceptional features and cutting-edge technology. At Kaizen Plus we are proud to have one of the best pools of high minds in technology, we have experienced, experts, and innovators- a best-in-class development Mobile/ Web Development team that delivers products way ahead of time.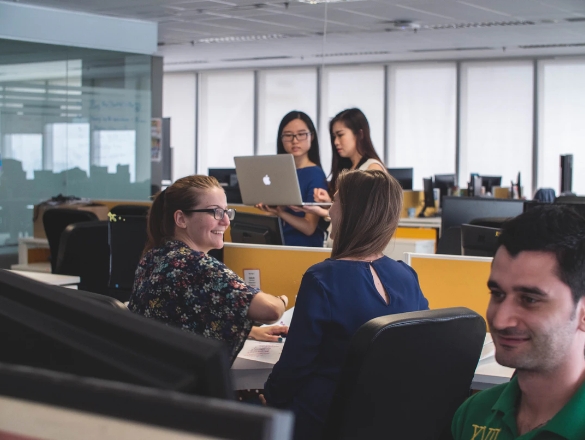 3. Business Analyst and Business Delivery Team
We have the finest blend of experience-expertise, creative-technical staff. Our team includes seasoned players in the industry with hands-on experience in technology and technical challenges that come alongside complex development processes. At Kaizen Plus we high-end analytic team that keeps a check on the functional flaws of the web projects, guides your enterprise on the technical path and makes efforts to increase your business profits. A legitimate team highly committed and dedicated to your enterprise's success.
4. Management & Human Resources Team
A management team comprising the industry's most intelligent tech minds, dedicated to offering sublime products and services to meet modern technology problems of Startups and SMEs.